The main block of Pt 18 of 9373, was bought from Burrows (CMS) in 1879. Henry retiring to farming, built the Rodmar home in the 1880's. Henry Tacy Jnr was born 1883 and Edward Blomfield 1885 (Emily died giving birth to him and Aunts Martha and Henrietta looked after the children).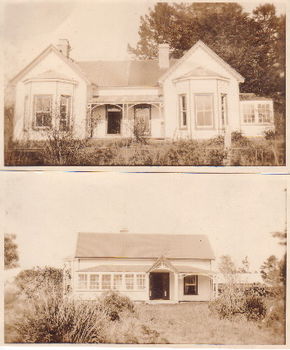 In Sept 1884 Henry sold 8 acres with ROW to Richard John Gill.

Hopkins Clarke after selling Rarere on the Kerikeri River returned to Waimate where he took a great interest in church affairs. Hopkins lived in the house, known as Rodmar, on Showgrounds Road and farmed the two adjoining properties. Henry Wyatt Watling Clarke (his son) died in 1893 and Hopkins died Feb 1913. Robert Athelstan Clarke (Henry's son) inherited the Hopkins blocks of land next to Rodmar. Athel after his second marriage moved to Paihia and built boats.

In 1902 Henry Tacy Clarke died and the land was given to the trustee's Edwin Augustus Bedggood and William Ernest Bedggood, to sell (except two blocks [Pahangahaga and Rodmar] not to be sold until the younger of his children turned 25 years.

In 1907 the land was handed over. Henry Tacy jnr sold his piece to Edward Blomfield Clarke.

The farm was then sold to Fredrick Hingston, Aug 1920 - Dec 1924 and Edward moved to Whakatane.

Sold lots 1 and 2 to Robert Athelstan Clarke in May 1925 and the remainder of his land in Oct 1925 to Ernest Holland, but he could not meet the mortgage for the property and ended up taking it back. In between 1930 – 1942.

Mabel Kathleen died at Russell on 27 Nov 1941.

In 1945, he left Rodmar after he married Rita in Feb 1943, and moved to Paihia. Trevor lived at Rodmar aged 10 years for 3 years, 1943 - 1945. Neville and Eileen Ross then farmed the farm for a short period.

The farm was then leased, and then sold to Cecil James Bedggood August 1962.